First Security Bank
BUSINESS – Money Management
Accounts Receivable Services
In today's competitive environment, profitable companies spend less time on cash management and more time on being productive. As a business owner or manager, you focus on finding ways in which your company can be more profitable. Minimizing costs and eliminating unnecessary steps in the production process are vital to your company's success. First Security's Cash Management services are designed to help you meet your objectives by providing you with the information and services you need to operate more efficiently and effectively.
Business eDeposit – Remote Capture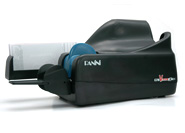 Business eDeposit allows you to speed the delivery of your check deposits and overcome geographic barriers to consolidating banking relationships-all you need is a small desktop scanner, a PC, an Internet connection, and FSB's eDeposit service. You can scan checks at your desktop and electronically send the images to FSB. No more trips to the bank to deposit checks. eDeposit greatly automates the process of listing, preparing and balancing deposits, as well as eliminating much of the costs, time commitments and security risk associated with transporting checks.
Lockbox Services
Lockbox services accelerate deposits of your daily receipts to help you minimize collection float and provide timely and accurate information on payments received. With our lockbox services, you'll also benefit from reduced labor costs associated with processing checks in your office and improved credit control.
Corporate Cash Concentration
Manage your funds more efficiently by centralizing them in a First Security Bank account. If you have multiple locations depositing funds into a variety of banks, Corporate Cash Concentration can be extremely effective in improving your investment potential and reducing your borrowing requirements.
Pre-Authorized Payments (ACH)
Electronically debit your customer's personal or commercial checking or savings account to simplify the administration of large volumes of recurring receipts. Pre-Authorized Payments give you immediate access to your funds on the payment date and improve cash inflow forecasting by eliminating costly delays associated with mail float and availability float.
Electronic Return Check Collection
Rather than re-presenting a returned check, the MICR line of the check can be captured and the financial institution and customer account data formatted into an ACH debit entry. By converting the check to an ACH debit, your chances of recovering the amount of the check increase greatly because you are electronically debiting the customer's account. This electronic collection process eliminates the time-consuming and manual task of collecting bad checks. First Security can also provide an outsource option for this service, if desired.
Merchant Services
Today, businesses need a credit card system that will work and grow along with them. First Security Bank merchant processing allows business customers to accept an array of credit cards including Visa®, MasterCard®, Discover®, American Express®, Travel and Entertainment cards and PIN-based debit cards.
---
Disbursement Services
Automated Clearing House (ACH) Electronically initiate State and Federal Tax payments, direct deposit of payroll, and vendor payments via ACH in a simple, secure, and cost-effective manner.
Zero Balance Accounts
Keep your funds concentrated in a single master account while maintaining separate disbursement and depository accounts for your company's divisions or subsidiaries. With a zero balance account, all funds over a specified amount are swept daily into a concentration account. You'll be able to better manage your flow of funds, track your monthly income, and take advantage of discounts or investment opportunities.
Business Bill Payment
Simplify your life with First Security's Business Bill Pay service by:
Paying your bills anywhere you have Internet access
Paying virtually any business or individual from one location without the hassle of purchasing stamps
Easily scheduling future and recurring payments
Business Debit Card
Whether you're getting gas or withdrawing cash from the ATM, your First Security Business Debit Card presents you with the flexibility you need. Transactions are automatically deducted from your business checking account. Use it everywhere that Visa® credit cards are accepted or at any First Security ATM. First Security will not charge a fee when using another bank's ATM.
Wire Transfer Services
Wire transfer is the fastest and most efficient method of funds transfer. If the need arises for an unexpected or sudden transfer, or if you are transferring large dollars domestically or internationally, our wire transfer services are a great choice. You may initiate wires through BusinessDirect or in person.
Corporate Credit Card
Enjoy the confidence that comes with using a corporate credit card from First Security Bank. Your business will have access to unparalleled financial support from FSB and can take advantage of extra benefits, such as the ability to set spending limits per card and earn cash back on everyday business purchases.
---
Information Reporting Services
BusinessDirect
With BusinessDirect you'll have access to account information and banking services, 24 hours a day, seven days a week, via the web with just a click of a mouse. From the privacy of your office or home, you can view each of your company's accounts, transfer funds, determine line balances, wire funds, initiate ACH transactions and reconcile issued and paid checks on a daily basis.
Business Direct Online Images
As a First Security commercial customer you now have the ability to retrieve images of paid checks online. This online service offers you a quick and inexpensive way to search for items that have cleared your account. With Internet access, a user name and password, the front and back images of checks can be viewed and printed.
Image Retrieval
First Security's Image Retrieval service provides your company with a single CD-ROM containing the front and back image of each cancelled check that cleared during the month. The Check Imaging service alleviates the problem of storing and organizing hundreds of cancelled checks. Each CD holds approximately 20,000 items, the equivalent of six to nine boxes of checks. This may be the answer if storage space is at a premium. In addition, there is no longer a need to search through boxes of checks or reels of microfilm to locate an item. Access to copies of cancelled checks is available immediately through check imaging software installed at your business.
Business eStatement
View up to 6 months of online versions of your monthly checking, savings and combined statements. The images of your checks are also included. Go paperless and get quicker access to your statement!
Incoming Wire Notification
Do you need to know when a wire from a customer has been received? With First Security's Wire Notification service, you will receive an email immediately upon receipt of an incoming wire.
Deposit Reconciliation
Deposit Reconciliation provides a detailed listing of deposits by store, agency or department number. This option sorts MICR encoded deposit tickets that have been deposited into a common account from multiple locations and displays this information on the reconciliation report.
Account Reconciliation
Reduce your office labor and paperwork, increase accuracy, and provide timely information through First Security's Account Reconciliation Service. Download multiple file formats into your accounting system including Quickbooks.
---
Cash Flow Management Services
Business Investment Sweep
Let First Security maximize your investment dollars by sweeping excess funds into overnight investments.
Business Line Sweep
Manage your company's line of credit to the lowest possible daily level. Funds over your specified target balance are swept each day to a line of credit. And, in the event your checking account needs funding, funds are swept from the line of credit to your checking account.
©Copyright 2008 – 2022 First Security Bank